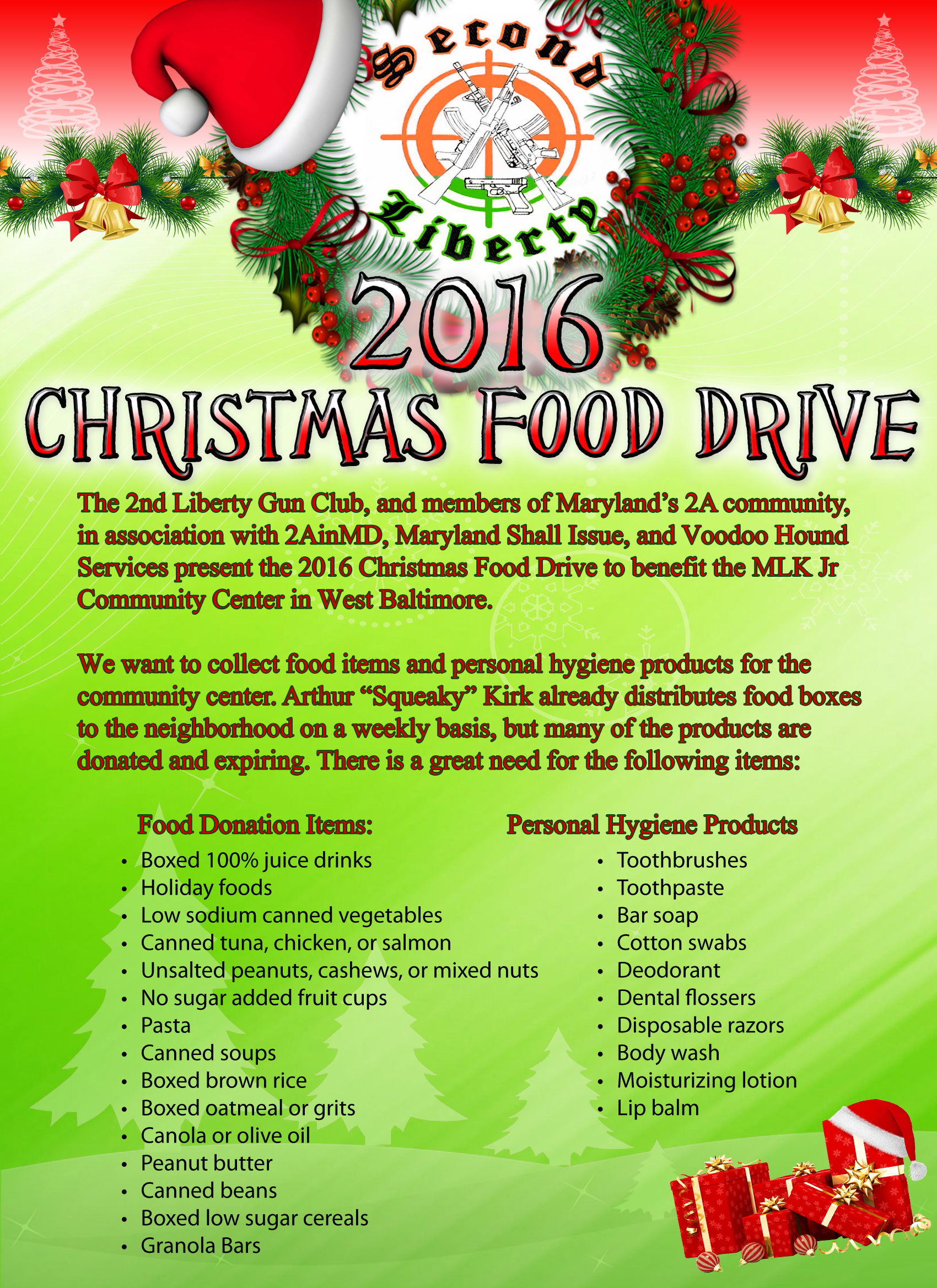 The 2nd Liberty Gun Club, and members of Maryland's 2A community, in association with 2AinMD, Maryland Shall Issue, and VooDoo Hound services, present the 2016 Christmas food drive to benefit the MLK Jr Community Center in West Baltimore.
"This summer we were working with Maj Toure to help him bring Black Guns Matter to West Baltimore. We tried several venues, but we were turned away. When we contacted "Squeaky" Kirk at the MLK Jr Community Center, he said it was a great idea and welcomed us with open arms and an open mind. Squeaky invited us to tour the center and when I got there I was impressed. They are trying hard to make a positive impact on that neighborhood. They are doing good work, but they always need more resources. This is how we can help them as a thank you for helping us."

-2AinMD
We want to collect food items and personal hygiene products for the community center. Squeaky already distributes food boxes to the neighborhood on a weekly basis, but many of the products are donated and expiring. He says there is a great need for the following items, especially the hygiene items, as these are typically not donated. The following is a list of suggested donations and drop off locations in the central Maryland region, were members of our community have volunteered to collect and store your donations. Additional ways to help are posted at the end of this article.
Food Donation Items:
Boxed 100% juice drinks
Holiday foods like canned yams, sweet potatoes, stuffing mix and cranberry sauce
Low sodium canned vegetables
Canned tuna, chicken, or salmon
Unsalted peanuts, cashews, or mixed nuts
No sugar added fruit cups
Pasta
Canned soups
Boxed brown rice
Boxed oatmeal or grits
Canola or olive oil
Peanut butter
Canned beans
Boxed low sugar cereals
Granola Bars
Personal Hygiene Products
Toothbrushes
Toothpaste
Bar soap
Cotton swabs
Deodorant
Dental flossers
Disposable razors
Body wash
Moisturizing lotion
Lip balm
The follow locations in central MD have volunteered to accept your donations
Calvert
– Atlantic Millwork – 120 Jibsail Dr Prince Frederick, MD 20678 M-F 7-3:30pm
Baltimore City
-Doug – 3112 Remington Ave, M-F 4pm-6pm
Baltimore County
– Just Electric LLC, 9419 Bel Air Rd, 21236, 9a-3pm, leave on the wooden ramp out back
– 724 mansfield rd. Essex,md 21221 between 5pm-8pm mon-fri./sun. 11am-7pm. Neight's house
Harford
-Chesapeak Shredding, 18 newport dr. Suite B, Forest Hill, MD, 9am-3 pm M-F
Howard
– Potomac Valley Installations, Inc. 6650 Santa Barbara Rd Suite 5 Elkridge, MD 21075. Monday, Wednesday, Friday 8am-12noon
– Sill Engineering Group, LLC 11130 Dovedale Court, Marriottsville, MD 21104 Hours: M-F 8am to 5pm
PG County
– College Park 8800 Rhode Island Ave. Call before dropping by 301-943-8903 (Dan, Cell) 10A – 6P 7 days a week