​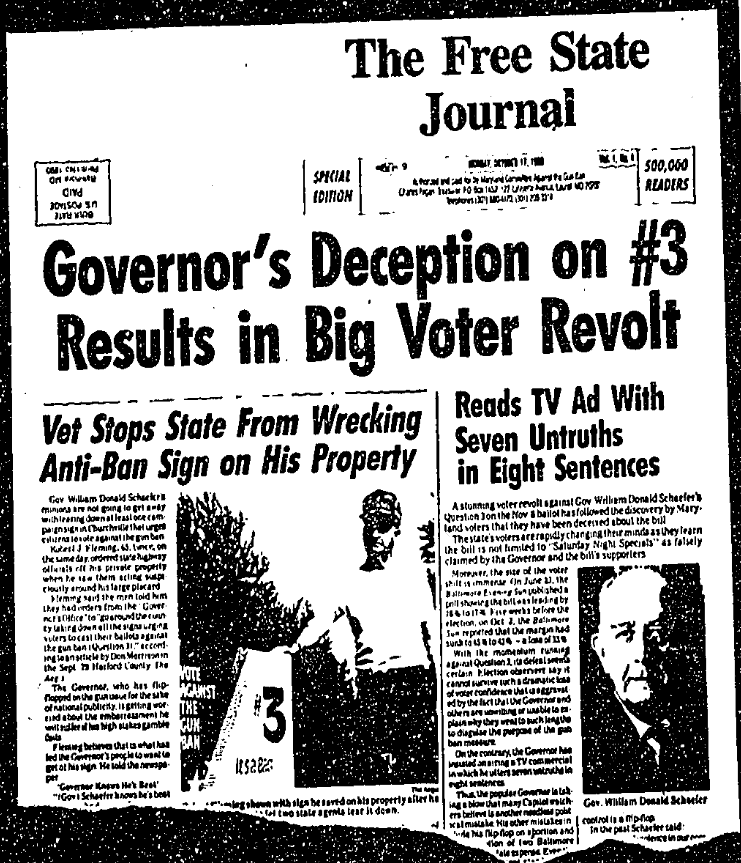 The Washington Post
Nov 4, 1988
Page A1

Black Leaders in Baltimore Hired by Gun Law Opponents
Inner-City Voters Targeted in Referendum
By John Lancaster
Washington Post Staff Writer

In an increasingly heated struggle for black votes, the $5 million campaign to overturn Maryland's new handgun law has hired at least a half-dozen prominent black community leaders in Baltimore as consultants and coordinators, according to campaign officials and other community activists.

The black activists working on behalf of the Maryland Committee Against the Gun Ban—which is financed almost exclusively by the National Rifle Association—have been appearing on television and radio talk shows, leading inner-city rallies and organizing get-out-the-vote efforts as part of the campaign to repeal the law in Tuesday's referendum.

"They're literally buying off the community," said George Buntin, executive secretary of the Baltimore branch of the NAACP, one of a host of mainstream black organizations that support the gun control law. "Not everyone has strong enough principles to turn down that kind of money."

The campaign has recruited aggressively from Baltimore's black leadership, a potent political force in Maryland elections, hosting catered lunches at its North Calvert Street headquarters. One community activist, Lynnwood M. Taylor, said he was approached at the September funeral of Baltimore civil rights advocate Robert Cheeks, a function attended by scores of the city's black political elite.

Outside the city, the campaign has hired Washington radio personality Cathy Hughes to promote its cause.

In addition, the campaign has earned good will in some areas by paying neighborhood canvassers, some of them teenagers, $6 an hour to distribute literature and line up support.

"Everybody gets paid in a capitalist system," said Russ Johnson, a former radio talk show host and the founder of the Baltimore chapter of the Black United Fund. "I'm working on an issue I believe in."

Aimed at inexpensive, easily concealable handguns known as Saturday night specials, the law would create a nine-member board—appointed by the governor and including two gun industry representatives—that would decide which handguns are legitimate for sporting purposes and self-defense. Handguns manufactured after 1984 that are not on the approved list would be banned from sale in Maryland. A vote "for" Question 3 on the ballot is a vote in favor of the law.

Steven Miller, president of the black public relations firm that is coordinating the effort against the jaw in Baltimore and urban areas of Prince George's County, said the support of community activists is based on simple conviction.

"This is democracy at its finest," he said. "They felt as a matter of conscience that this stand had to be taken."

Miller acknowledged that at least six well-known black activists in Baltimore are receiving money for their work on behalf of the campaign, but he declined to reveal their salaries. "All campaigns spend money to get the word out," he said. "I think it is a racist argument, when there's money being spent on every campaign in this country, that when it's spent in the black community, there's some presumption" of false motives.

But Pam Pryor, a spokeswoman for the Maryland Committee Against the Gun Ban, acknowledged that the payment of community leaders is unique to the inner city campaign. "I don't think the voluntarism is as high in the city," she said. "It's just a different life style."

Among those who have been paid to take up the cause of the lobby opposed to the gun law is Hughes, the owner of Washington radio station WOL and a well known figure among blacks in Washington and the Maryland suburbs. Among those who say they have been approached by the committee—and turned down offers of pay—is Rodney Orange, a black political activist in Baltimore who managed the successful 1986 campaign of highly popular Rep. Kweisi Mfume (D-Md.).

Supporters of the law have not been blind to the opposition's tactics, and this week engaged Jesse L. Jackson to make a 60-second radio spot on their behalf that will be aired on stations catering to black audiences, according to a spokeswoman for the gun control group.

In addition to hiring community leaders, the campaign against the law has mounted an aggressive door-to-door and telephone canvassing effort in Baltimore and Prince George's County, which have the bulk of Maryland's black voters.

Maryland's black population has assumed a special significance in the battle over the gun law. Early polls indicated that blacks overwhelmingly supported it, but more recent surveys suggest that the campaign to overturn it has made substantial inroads. A divided black vote could well tip the election into the "against" column.

Black activists working for the campaign against the law gave a variety of reasons for their involvement. None would say how much they are being paid.

Morning Sunday, who ran unsuccessfully for the Baltimore City Council in 1984 and now is Baltimore coordinator for the presidential campaign of black activist Lenora Falani, said she went to work for the campaign "primarily" because it is providing jobs in poor neighborhoods.

"The black community never gets money when these things come around, and this is the first time anyone has ever valued our work enough to pay us for it," said Sunday, who has led a rally against the law at a housing project and attacked the law on a television talk show.

She objects to the law, she said, because "it doesn't address" the root causes of crime. "I may no longer be a knee-jerk liberal because I'm trying to look at things in terms of practical solutions," she said.

Lawrence Little, who identified himself as a civil engineer and board member of the Bethel AME Church in Baltimore, said he is working as a consultant to get-out-the-vote efforts but has no strong feelings about the law. "I'm not really opposed to the law," he said. "I'm in the middle. I'm trying to decide which way to vote."

Asked whether he was being paid for his help. Little replied that he was not, although he added, "I have no problem with anyone getting paid for what they do." Pryor and Miller both identified Little as a paid consultant.

Hughes, who led a lengthy boycott of the Washington Post Sunday magazine in 1986, appears in a new television spot attacking the law, although Pryor declined to say how much she was paid. "It was a professional fee and we don't choose to discuss that," she said. Hughes could not be reached for comment.

Others have chosen not to get involved. Irvin Conway, director of the. Baltimore Welfare Rights Organization, said he was invited to lunch early last month at the campaign's Baltimore headquarters by Roberta Gaines, a longtime community worker who now is trying to overturn the law.

Conway said he was surprised when he arrived at the office to find a lavish catered affair. "I was offended by it and I spoke out," he said, "I just let them know that I had more principle than to sell out my community, because it's black kids that are being shot."

But shortly thereafter, Conway said, Gaines called him with an offer of work. "I was told that I could put my budget together," he said. Conway declined.

Miller confirmed that Conway attended a lunch but denied that that the campaign tried to hire him. "These are lies," Miller said. "He works for the other side." Gaines did not answer repeated telephone messages.

Taylor, a longtime community organizer and a former affirmative action officer with the Baltimore transportation department, said he was approached at Cheeks' funeral by an old friend working for the campaign. She told him he could earn $700 a week if he did the same, he said.

"I agonized for two days," said Taylor, who quit his city job to care for his two small children after the death of his wife in 1987. "I could do miracles with that kind of money."

But he finally chose not to pursue the offer because, he said, "Anything we have to do to stop the proliferation of guns and violence, we have to do."

Miller said he has never heard of Taylor and said that he was the only campaign official authorized to make such offers.

But Orange, the manager of Mfume's campaign, said he was contacted during the summer by George Young, the chief media strategist for the campaign against the law, and told that "they were willing to pay between $500 and $1,000 a week."

Through a spokeswoman, Young denied ever contacting Orange about a job or for any other reason.