Last week the Herald-Mail ran an article titled More Marylanders can get wear and carry permits.
We disagreed with some of the statements made in the aricle, and a large facebook circular firing squad ensued.
When emailing the author of the article Mike Lewis, he had the following to say,
The article began when I saw an ad in the newspaper stating: "The regulations have changed!"
Let's take a look at the ad that I suspect prompted this. In the left is the ad as it appeared at the time of the article, on the right is the ad as it appears now. It looks like it has been changed. Probably not enough in my opinion.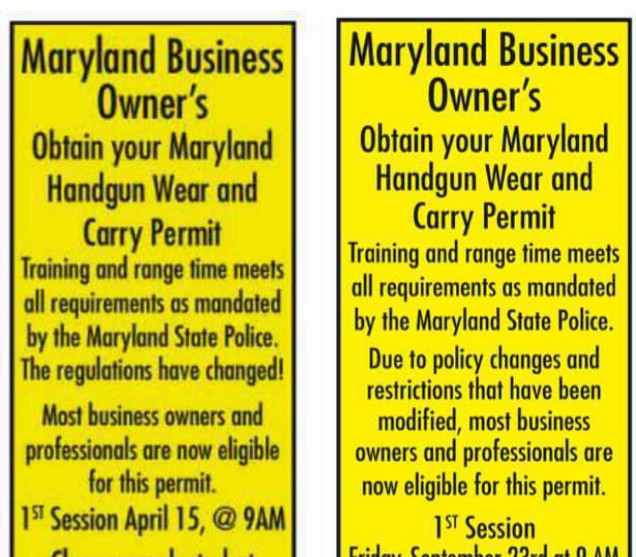 Further in the email, the author of the Herlad-Mail article, Mr Lewis states the following,
But in researching the piece, I found there is no change in regulations, which I tried to address in the article. I probably did not explain this well. Again, as I understand it, more business owners (or in some cases, employees) can obtain a permit for a wider range of business activities, which means more people can qualify.
Mr Lewis went on to explain that his calls to the Maryland State Police for more information and clarification went unanswered (I'm not surprised), and that he did not contact any of the gun rights organizations active in MD for more information.
All of this was communicated to me within a few days after the article was published, and after (I thought) the bulk of the discussion on the topic had been concluded. I was wrong.
I don't think I can get Mr Lewis to print a retraction, or a correction, nor would I ask him to. He explained that has moved here from out of state, and that MD's firearms laws are new to him.
I came to Maryland from Indiana in February, and I'm still learning about Maryland's gun laws (which are quite different than what I am accustomed to).
My problem with this article centers around people that should know better.